Reading Gaol and its connection with Oscar Wilde has already inspired creativity, which is just one reason why we think it would make an amazing arts and heritage centre.
The Ballad of Reading Gaol by Oscar Wilde
The Ballad of Reading Gaol
Oscar Wilde wrote his dark ballad, which describes the execution of a prisoner and the effect it has on the other prisoners, after his release from Reading Gaol.
---
The Oscar Wilde Memorial Walk
---
Ballads for Reading Gaol 2023
Ballads for Reading Gaol – Winning Entries
We are delighted that our two winning poems have been recited by actor Michael Maloney. See below. Adult winner – The Ballad of Reading Gaol Resurrection by Ros Hatt Under 18 winner – To Escape by Lilly Bell
---
Freedom Art Competition 2021
FREEDOM Art Competition
What does freedom look like to you? Get involved in the Save Reading Gaol Art Competition this autumn, inspired by the theme of 'freedom.' Our fantastic prizes include art materials, creative experiences and theatre tickets kindly donated by local organisations including Hobbycraft, Made by Tamalia, Craft Box Club, Art Jam Studio, Progress Theatre, Flip Out Basingstoke, Reading …
---
Banksy Create Escape 2021
Banksy's Create Escape
On the morning of 1st March 2021 Reading residents awoke to find an artwork painted on the prison wall at Reading Gaol. This lifted the spirits of young and old, at a time when partial Coronavirus restrictions were still in place. The general view seemed to be that it was a Banksy and a few …
---
Oh Beautiful World!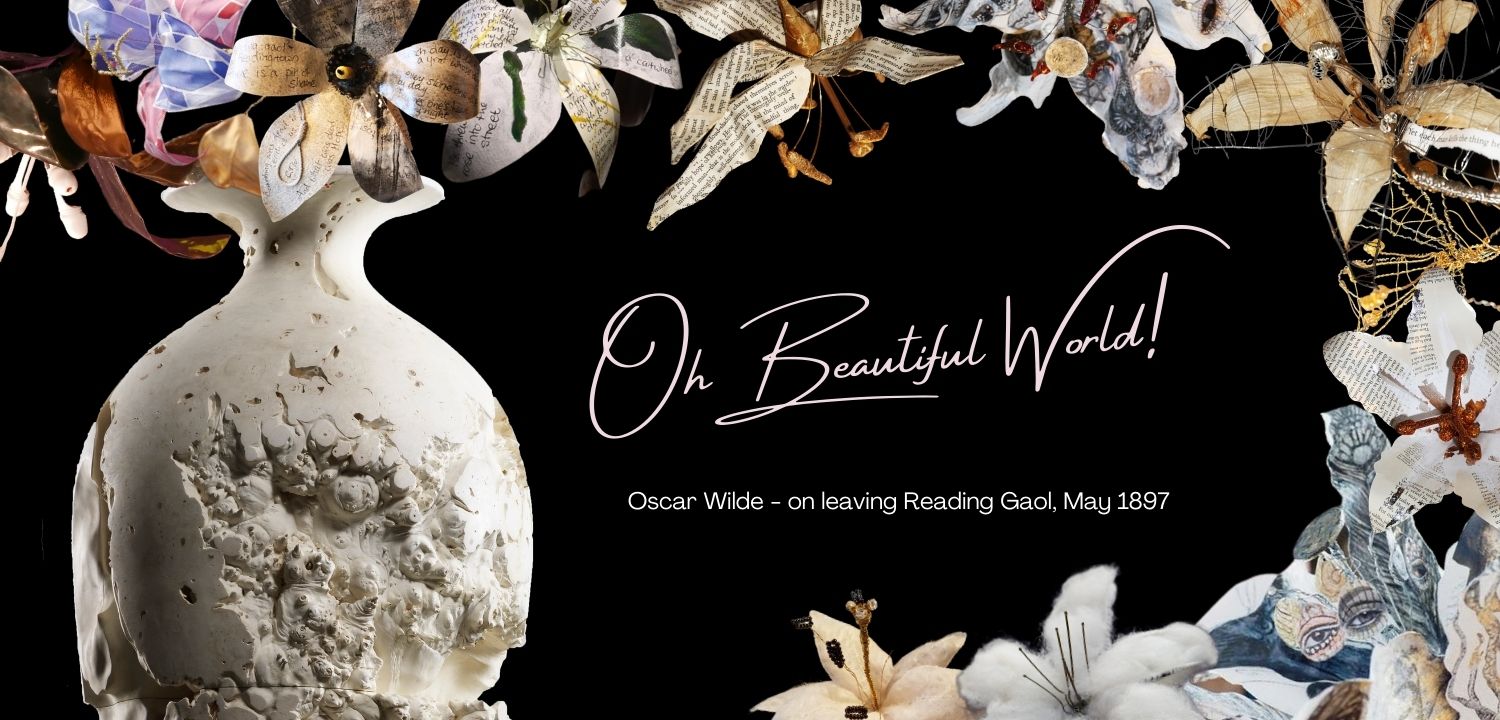 Oh Beautiful World!
Discover Oh Beautiful World! by Eleanor Lakelin, a sculpture celebrating the legacy of Oscar Wilde in Reading.
---
The Prison Pictures 2019
An art exhibition by Heather McAteer and Liz Real.
---
Reading Gaol Hug 2019
Reading Gaol Hugged
On Sunday 13th October 2019, about 1000 people joined hands surrounding Reading Gaol in a physical demonstration of our wish for it to be saved as an arts and cultural centre. It was a wet day, but that didn't deter us, although it did deter the BBC drone. Fortunately, back in 2019, nobody had outlawed …
---
In Reading Gaol by Reading Town 2019
In Reading Gaol by Reading Town
An exhibition featuring work from 20 local artists inspired by Oscar Wilde's 'The Ballad of Reading Gaol' was held in the Turbine House at Blake's Lock in Reading in 2019. Below are a selection of works from the exhibition. Carole says "The Ballad of Reading Gaol conjured up vivid images. In particular, the horror of …
---
Lillies for Oscar Wilde 2018
How Lilies for Oscar Wilde brought the creative community together
Lilies for Oscar Wilde has been nominated in the Cultural Contribution category of the Pride of Reading Awards
---
The Critic as Artist 2018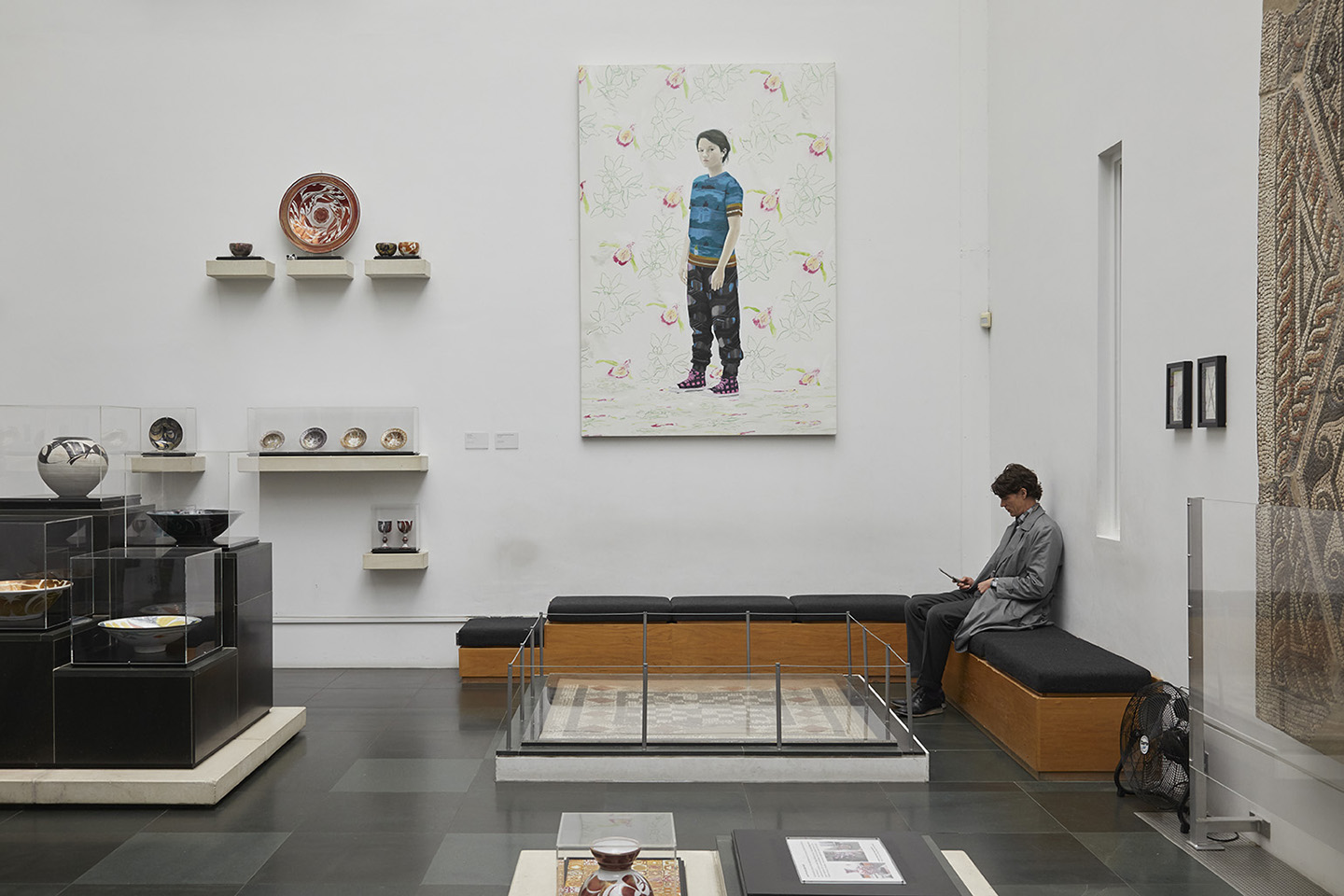 "The Critic as Artist" Reading International at Reading Museum, Reading — Mousse Magazine and Publishing
Including work by Miles Aldridge, Stephen Buckley, Marc Camille Chaimowicz, Lucienne Cole, Dexter Dalwood, Kaye Donachie, Donna Huddleston, Travis Jeppesen,
---
Oscar Wilde on Trial 2016
Oscar Wilde on Trial
In 2016 RABBLE Theatre produced a new verbatim play, written by their associate writer, Beth Flintoff. Oscar Wilde on Trial told the story of the three trials that led to the eventual imprisonment of Wilde for the 'crime' of homosexuality.The play was staged inside The Old Chapel of Reading Gaol, where Wilde was seen making eye contact …
---
Artangle Inside exhibition 2016
Artangel "Inside" Reading Gaol
In 2016 the doors of Reading Gaol were opened for an exhibition "Inside" put on by Artangel. This included works by world renowned artists and performances of Oscar Wilde's The Ballad of Reading Gaol and De Profundis read by Rupert Everett and Patti Smith. The Artangel link below has videos of the performances. Rabble Theatre …
---
Filming
Reading Gaol has been used as film locations in the television series Broadchurch and Killing Eve.